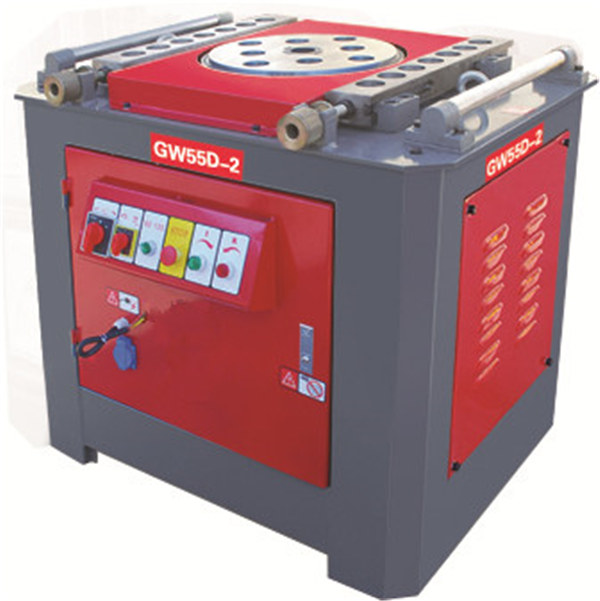 Brief description of bar bending machine :
---
Steel bar bending machine mainly used for bending the common round steel,carbon steel,Ⅱ/Ⅲ straight thread, and other construction projects, processing enterprises need various bending shape of the workpiece.This machine is mainly composed of drive gear, rack and workbench of three parts, transmission parts by motor through a triangle belt, pulley, gear shaft drive disc rotation, to complete the workpiece bending.
Steel bar bending machine is suitable for the construction of all kinds of reinforced bending, the product through the CE certification, exports abroad, adopting non-contact switch sensor and embedded microcomputer control, overcome the shortcomings of traditional large bending machine bending Angle error, the update products is a traditional bending machine.Compared with domestic already appeared the automatic bending center, its biggest advantage is to use "reinforced mobile, and bending machine does not move";And other manufacturers of equipment used is "bar does not move, bending machine move" train of thought.
Bar bending machine:
---
1.multifunctional
2.high efficiency
3.super quality with competitive price
4.low noise
5.environment
Product description of steel bar bending machine:
---
Technical parameters of CN22/CN33 steel bar bending machine

Modelo
GW4
GW5
Bending Diameter

 Plain carbon steel   

≤Φ40mm

Plain carbon steel

≤Φ50mm

Deformed steel ≤Φ32mm
Deformed steel ≤Φ40mm
Operation disc spec
Φ350mm
Φ400mm
Axis Rotate speed
high speed:9.63r/min
2.685r/min
low speed:4.68r/min
Fuerza de motor
3KW
4KW
Motor Rotate speed
1429r/min
1400r/min
Overall Dimension
93x73x71cm
106×81×72cm
Whole Weight
350kg
450kg
Advantage of our steel bar bending machine:
---
1 It can be preset two angles at the same time, realizing the combined function of bending and stirrupping together.
2 The work pole with bolt at one end can be adjusted, so as to make the bending angle more accurate.
3 This machine can be used automatically or manually, according to workers's usage habit.
Safty Operation
---
1.Check the electric parts as per the chart,plug into the pedal,connect with power to run unload at least 10 minutes.Must install the electric leakage switch and lack phase device,then confirm the rotate direction of the disk same to the mark on the sign.
2.Take bend accessories from the tool box in the cabinet,the put on the work disk as per the rebar dimension.
Manual Operation
3.Switch on the manual position,motor start button,adjust the disk to the start point,then put the rebar into the bend accessories.(rebar and block rod gap in 2-10mm )
4.Hold the start button until bend the rebar shape what you want.Hold another button,the disk back start then loose the button,finally finish work one time.
Semi-auto Operation
5.Adjust the switch on the semi position,make the two block to the start point and angle position what you want,put the rebar into the accessories.(rebar and block rod gap in 2-10mm )
6.Start on motor or set pedal switch,motor drive disk to rotate bending the rebar,it would back automatically after finish bending work.Notice:Semi-auto just set the start button or pedal switch,automatic back to start.
7.This type machine has the emergency stop button in symmetrical design,If occur the unappropriate operate or fault on equipment,the operator must press the button when leave from machine or off-duty.
Nuestros servicios
---
High quality machine to bend steel wire and inexpensive
1. Pre-sale services:
Act as a good adviser and assistant of clients enable them to get rich and generous
returns on their investments.
1>. Select equipment model;
2>. Design and manufacture products according to clients' special requirement;
3>. Train technical personnel for clients.
2. Services during the sale:
1>. Pre-check and accept products ahead of delivery;
2>. Help clients to draft solving plans.
3. After-sale services:
Provide considerate services to minimize clients' worries.
1>. Assist clients to prepare for the first construction scheme;
2>. Install and debug the equipment;
3>. Train the first-line operators;
4>. Examine the equipment;
5>. Take initiative to eliminate the troubles rapidly;
6>. Provide perfect service;
7>. Provide technical exchanging
Detalles Rápidos
---
Estado: Nuevo
Lugar de origen: Shandong, China (continental)
Brand Name:Angle bending machine
Model Number:Steel bar bending machine
Tipo de máquina: Máquina dobladora de rodillos
Materia prima: barra de acero
Material / metal procesado: acero al carbono
Power:Hydraulic
Automatización: Automática
Servicios adicionales: corte a la longitud
Certificación: CE
Name of the machine:Angle bending machine
Colour:Natural colour
Material of machine:Stainless steel
Steel bar bending machine Voltage:380v/220v
Steel bar bending machine Size:
850*850*750mmThe motor power:3KW/4KW
Total weight:220/330/520KG
Operation Disc Spec:350mm
Steel bar bending machine Motor Speed:1400r/min
Operation:Automatic
Servicio postventa proporcionado: ingenieros disponibles para el servicio de la máquina.